Brain Bites – Issue 16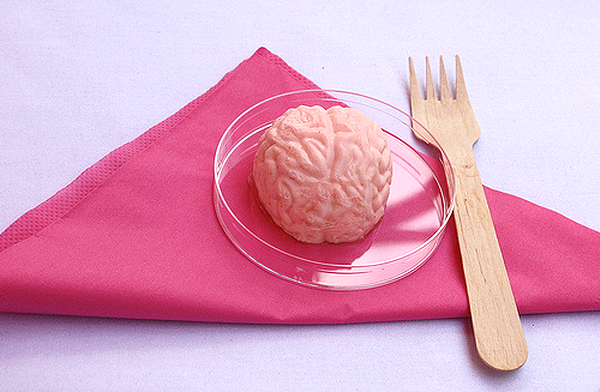 Brain Bites are "now and then" morsels regarding trends, statistics, and interesting ephemera in personal economics.
These tasty tidbits help maintain your edge over an unpredictable future.  Think of them as cerebral snacks for the hungry mind!
Credit the recovery
U.S. credit-card balances hit $1 trillion last year as banks aggressively pushed their plastic and consumers grew more comfortable carrying debt.
Ref: Wall Street Journal
Unsafe at any speed

Using a mobile phone while driving is not safe even if it's hands-free.  A lab study of drivers' behavior showed that answering simple questions during phone conversations reduced driver focus to an area four times smaller than normal.
Ref: University of Sussex
Cute but costly
The average annual cost of full-time, center-based child care now exceeds the average annual cost of in-state tuition.  That amount ($9,589 per child) represents nearly a fifth of annual median household income and 85% of the yearly annual median cost of rent.
Ref: New America
Is there an app for that?
A 2016 survey found less than half of college graduates knew that George Washington was the commanding general at Yorktown;  more than one-third could not place the Civil War in a correct 20-year span;  and nearly half did not know the lengths of the terms of U.S. senators and representatives.
Ref: American Council of Trustees and Alumni
Fasten your seat belts
For the past two years, the single greatest challenge cited by Fortune 500 CEOs has been the rapid pace of technological change.
Ref: Fortune
Sack time
Gender plays the biggest role in how long a person sleeps, circadian sleep experts say.  While age and nationality are factors, on average women clock 8.07 hours of sleep, while men get 7.77 hours.
Ref: Science Advances
Continental drift
High-skilled workers have increasingly sorted themselves geographically, preferring to live in high-wage cities with desirable local amenities.  This has led to the growth of places that some economists have dubbed "superstar cities."
Ref: The Economist

Now you see 'em, now you don't
In nearly one-quarter of metro areas, middle-class adults no longer make up the majority.  That's up from fewer than 10% of metro areas in 2000.
Ref: Pew Research Center
What's in your wallet?
Millennials are gravitating toward payment methods such as debit cards, PayPal, and apps like Venmo.  Only 37% of American households headed by someone aged 35 and under held credit card debt in 2013, the lowest level since 1989.
Ref: U.S. Federal Reserve
Butt out in Utah
Cigarettes contribute to more than 1 in 4 cancer deaths in the U.S.  The highest rate among men is in Arkansas (40%);  among women, in Kentucky (29%).  The lowest rates of death linked to smoking for both men and women were in Utah (22% and 11% respectively).
Ref: American Cancer Society
Oil and water
Less than one-third of people over 65 have had meaningful conversations with people under 30 in the previous month.  Take out family, and it's less than 5%.  Americans are more likely to have a friend of a different race than one who is 10 years older or younger than they are.
Ref: Karl Pillemer, gerontologist
We're lovin' it
Seventy-five percent (75%) of the U.S. lives within 3 miles of McDonalds.
Ref: McDonald's Corporation
Not where they want to be
In its 2016 Retirement Confidence survey, EBRI reported that 40% of unmarried women and 22% of married women have less than $1,000 stashed away for retirement.
Ref: Employee Benefits Research Institute
Can you hear me now?
One quarter of people aged 20 to 69 are suffering some hearing deficits, even though the vast majority of people claim to have good or excellent hearing.  Half of those studied said they have no regular exposure to loud noise at work.  That suggests the hearing loss was caused by other factors such as leaf blowers, sirens, concerts, and listening to music through headphones with the volume turned up too high.
Ref: Centers for Disease Control and Prevention
No vote, no complain!
Turnout of American voters under 25 is disturbingly low.  One cause cited is that young persons see voting as a choice rather than a duty (or indeed, a privilege).
Ref: The Economist

Easy come, easy go
Of the 500 companies that appeared on the Fortune 500 list in 1955, only 61 (12%) were still on the list 59 years later in 2014.  Fifty years ago the life expectancy of a Fortune 500 firm was around 75 years.  Today it's about 15 years and declining.
Ref: American Enterprise Institute
What's in a name?
From its annual list of the 1,000 most popular baby names in 2016, the top name for girls is Emma (third year in a row).  The top name for boys is Noah (fourth year in a row).
Ref: Social Security Administration
Thanks for your support
In 1990, those 65 and over comprised 12.5% of the population.  That share is projected to increase to 16% in 2020 and 19% in 2030 (1 in 5 Americans).  Increasingly, tax monies are being diverted to care of the elderly, who often are in better financial shape than the young who are subsidizing them.
Ref: U.S. Census Bureau
Not for office wear, please
Working class is en vogue and Nordstrom is selling its "Barracuda Straight Leg Jeans," complete with fake mud caked on the knees, pockets, and crotch.  For $425, you can show that you're not afraid to get down and dirty.  No word whether faux cow pie is in the offing.
Ref: The Washington Post.
---
There are no stupid questions, but there are a LOT of inquisitive idiots.
~ Larry Kersten, sociologist
---
I love taking my message directly to students and groups of young persons!  If you would like me to speak at your school, not-for-profit, or corporate event, please use the Contact Form and enter "Speaker" in the subject line.  We'll work out the details.  ~ Brian
---
Don't shoot—I'm only the piano player!  The information in Brain Bites is sourced from a variety of usually reliable publications. Nevertheless, we cannot guarantee the accuracy or currency of this material and a degree of common sense should be applied before quoting it.  If something appears to be too good to be true, it probably is.
---
Image credit:  "Jelly Brain Dissection" by Guerilla Science (2010), licensed/modified (red ring removed) by permission of copyright holder.