Young Person's Guide to Wisdom, Power and Life Success: Making Smart Choices
The Young Person's Guide is a no-BS guide written for young persons age 16 to 30 ("Generation NeXt") and their parents.  It looks at five controllable decisions most all young adults will make:   who you marry, how many children, level of education, where you live, and your choice of lifestyle.  All of these decisions affect your future personal economic success.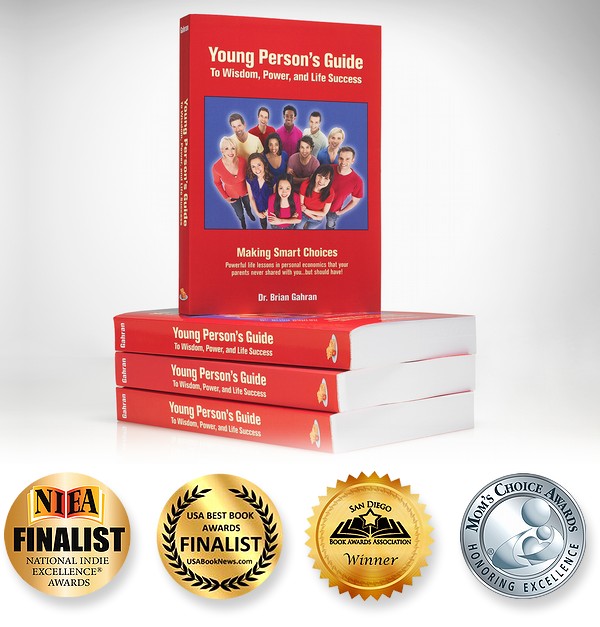 The old saw "money does not guarantee happiness" is true.  But having insufficient money almost assuredly guarantees a life of want and misery.  It's no fun being old.  It's less fun being poor.  It is hell being old and poor.  In the Guide, young persons will discover why success in life is not a done deal:
See the world as it exists, not as you want it to be.
How trap thinking can trigger a lifebomb—a decision outcome you'll later regret.
Your biggest source of risk and why you consistently fail to avoid it.
How Baby Boomers have sold Gen NeXt (that's you) down the river.
One-half of Generation NeXt is projected to live more than 80 years.  But we have a problem Houston.  Later in life, when the unpredictable future becomes the actual present, many NeXters will find themselves experiencing a lower standard of living than did their parents.  For you, it will be "Game Over" with no <RESET> button.  Don't be one of them!
Who benefits from this book?
Generation NeXt (16-30 year olds);
Parents of Gen NeXt and other trusted adults;
College, university, & high school counselors and educators.
There you have it. Stop whining and start winning by working toward the future that you want to achieve. Young persons, do you want to succeed? Yes, you can. Yes, you will!
Based on real-world observations
Does every generation have to learn the hard way?  No!  There is a good deal that a young person can do to shape and improve his or her quality of life.  In the Guide, NeXters (and concerned parents) will find practical prescriptions—not academic mumbo-jumbo or simple "top-ten" lists—that can be applied to your own life today!  So, what's in it for you?  You'll discover how to:
Question your beliefs and know your limitations
Understand the real-world agenda and discern what really matters
Think critically, exercise prudent judgment, and make common sense a habit
Seek counsel from others and learn from their triumphs and failures
Take 100 percent responsibility for what happens in your life.
Like the flower to the seed, the unintended consequences of tomorrow can be traced back to the decisions you make today.  This compels us to look in the mirror and ask, "In what ways are the seeds of my future success (failure) already with me?"
Young Person's Guide to Wisdom, Power, and Life-Success: Making Smart Choices is available in ebook and print from these outlets:
Print Format
Ebook Format
Book overview
In the first part of this book, Getting the Gist, we spotlight Generation NeXt.  The first four chapters examine who you are, the importance of taking responsibility for your future, and why you must learn to become a mature decider.  This section outlines how to gain control over your decisions so you can achieve the success and happiness you want in life.
In part two, What's at Stake, we learn about risk.  Today, the middle class is being squeezed like a sponge and NeXters face serious personal economics challenges.  Sadly, too many young persons have only a vague idea of the risks they face to their future well-being.  It's not just that the system is increasingly stacked against you;  your biggest source of risk comes from within.
In part three, Understanding Yourself, we crack open the human psyche to reveal how young persons think.  Have you ever asked yourself, "Why do I behave the way that I do?" Our questionable beliefs often "trap" our thinking and alter our perceptions of reality.  More common than we imagine these traps trigger lifebombs, or dumb choices, with unintended consequences we later regret.
Part four, Controllable Decisions, looks at five controllable decisions that most young persons will face at some point in their life:  who you marry, how many children, level of education, where you live, and choice of lifestyle.  What you don't know (ignorance) and what you know that just ain't so (ineptitude) can set you up for big-time failure.  Don't let this happen to you! 
In part five, Making Smart Choices, we pull it all together.  Learn how to make rational decisions, when to trust intuition and gut-feel, and the value of tapping wisdom from tribal elders (older persons who care about you).  Discover how three key life-skills can improve the quality of your reasoning:  common sense, critical thinking, and acceptance of responsibility.
In the Appendices, tribal elders are confronted with the reality that their generation, the Baby Boomers, has mortgaged its children's future.  Many Boomers say they wish they had this book when they were your age.  As a bonus, there is a trove of decision-making tools to help a young person make smarter life-choices.
Throughout the book you'll find pithy nuggets of "wrinkle wisdom" that help keep ignorance and inexperience from costing you a bundle.  "Reali-tudes™ are life-lessons, distilled from real-life experience and common sense.  Bottom Lines illuminate the "hot breath of reality."  Gists neatly encapsulate the larger picture.  The tools you need, to succeed!
Young Person's Guide to Wisdom, Power, and Life-Success: Making Smart Choices is available in ebook and print from these outlets:
Print Format
Ebook Format
Young persons, do you want more confidence, greater freedom, and better control over your life?  Develop power over an unpredictable future … what are you waiting for?